2022 Amie L Thomasson
Rethinking Metaphysics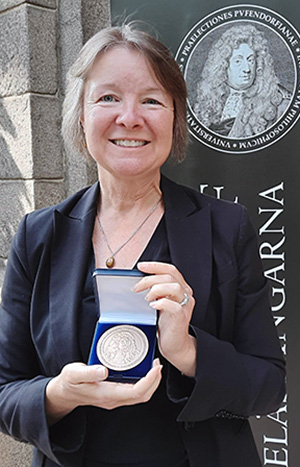 Amie L Thomasson is Daniel P. Stone Professor Of Intellectual and Moral Philosophy at Dartmouth College.
She works in the areas of metaphysics, philosophical methodology and metaontology, philosophy of art, philosophy of social and cultural objects, philosophy of mind and phenomenology. Her current work focuses on questions about what philosophy can legitimately do, and how we can do it.
Amie L Thomasson presented the Pufendorf Lectures 1–3 June 2022, 15.15–17 in C126 at LUX, Helgonavägen 3, Lund.
The lectures were open to the public.
Series Abstract
Two approaches have dominated work in metaphysics since its post-positivist revival: an explanatory approach and a truthmaker approach. Both rely on the unargued and problematic assumption that all discourse serves the same function. This assumption has taken metaphysics in misdirections, leading to pseudo-problems and epistemological mysteries that have left metaphysics in a crisis. Once we eliminate the functional monist assumption and appreciate the many and diverse functions language serves, we can disentangle ourselves from old problems, and see more fruitful directions for metaphysics.
Lecture 1, 1 June
Misdirections in Metaphysics 1: The Explanatory Conception of Metaphysics
Lecture 2, 2 June
Misdirections in Metaphysics 2: The Truthmaker Conception of Metaphysics
Lecture 3, 3 June
Redirecting Metaphysics
Misdirections in Metaphysics 1: The Explanatory Conception of Metaphysics, 1 June 2022:
Misdirections in Metaphysics 2: The Truthmaker Conception of Metaphysics, 2 June 2022:
Redirecting Metaphysics, 3 June 2022: