Person
Researcher
Theoretical Philosophy
Department of Philosophy
Contact information
E-mail jeroen.smidfil.luse
Visiting address
Helgonavägen 3, Lund
Postal address
Box 192, 221 00 Lund
Internal post code 30
I am a postdoctoral researcher in Theoretical Philosophy at the Department of Philosophy at Lund University, funded by the Swedish Research Council. From 1 April 2018 I am a visiting researcher at the School of Philosophy of the University of Manchester. My research concerns mereology, ontology, and metaphilosophy.
From October 2013 until June 2017 I worked as a PhD student at Lund. Before that I was a research assistant within the ERC project 'Tarski's Revolution' (PI: Arianna Betti.)
Research
My profile in Lund University research portal
My research interests are in ontology (in particular mereology), meta-ontology, and philosophical methodology. 
Other tasks and qualifications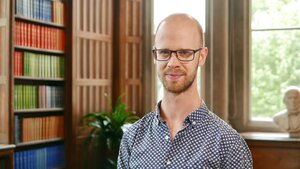 Researcher
Theoretical Philosophy
Department of Philosophy
Contact information
E-mail jeroen.smidfil.luse
Visiting address
Helgonavägen 3, Lund
Postal address
Box 192, 221 00 Lund
Internal post code 30